If you are facing this error when you want to print something.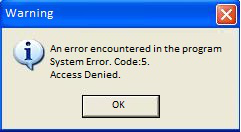 The problem occurs from the fact that the page size of the invoice you are using or the form design that gives the error is not specified (custom is selected).

To solve that, click the print=> design active report while on any invoice or form giving the error, design document will be opened.

You can change the custom option from the page size field on the left by selecting the printed form size you are using, if you need to enter these values manually, you can choose the default.