You can transfer values based on formula definitions that you enter in transaction custom field definitions on 'Amount' field.
let's see how the system works.

First of all, open an invoice and go to 'Formula Definitions' in 'Transactions' field. You will get 'Formula Definitions' screen. You can retrieve data from invoice, invoice transaction chart, client card record or stock card record fields during formula definition process. To see data field, you can click "Shift + Space" on formula definition box. You will get data charts and field names.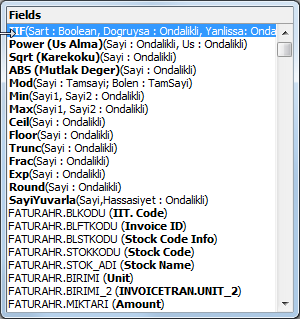 You can also enter numbers depending on what you need.
Let's take a company which computes amount by measuring height and width, as an example to see the way the system works.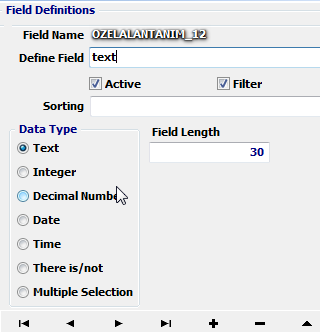 When defining custom field, make sure that the data type is numeric.
After this process, when you go to formula definitions field, you will see that the custom fields you've defined are added to formula fields. Calculating amount, in order to take the product of the width and height as base, press "Shift + Space" on your keyboard and click on ''Information'' field when ''Amount'' option is checked. Select ''Width'' on the new window. It will be added as DB(FATURAHR.OZELALANTANIM_No). Press multiplication button (*) on your keyboard and again, press "Shift + Space" , then select ''Height''. Complete the process by clicking on ''Ok'' button.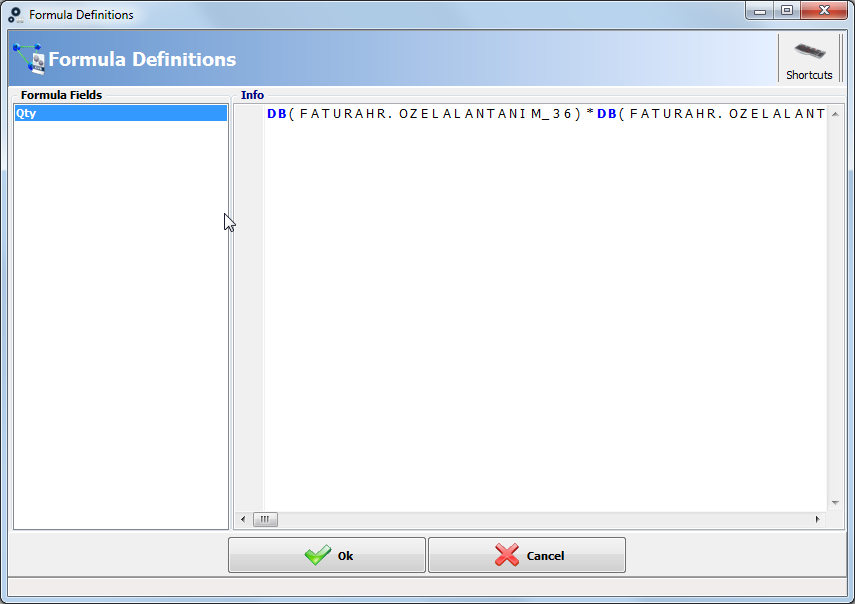 After this process, type width and height values on custom field definitions in invoice transaction field. When you click enter, the amount will be computed automatically. You can generate formula definitions as purchase, sales, return and so on.
You can generate formulas based on this example and form them according to how you want to use.