AKINSOFT Wolvox Installer software is used to download Wolvox group softwares automatically from internet and easily install them to the server or client computer. Also can be used for version upgrades by checking the updated version releases on internet. When any of Wolvox software is downloaded from our website, setup file will be downloaded. To use Wolvox Installer Software, this downloaded file should be installed to the system only for once.
2. USAGE
After installing and running the software, "Installation Type" selection must be made. For this, click to the "Server Setup" button located at the bottom of the sofware window. From the window opened, by clicking to the related button usage type will be defined according to the type of the computer where "Wolvox Installer" has been installed. Wolvox Installer Software works in 3 ways.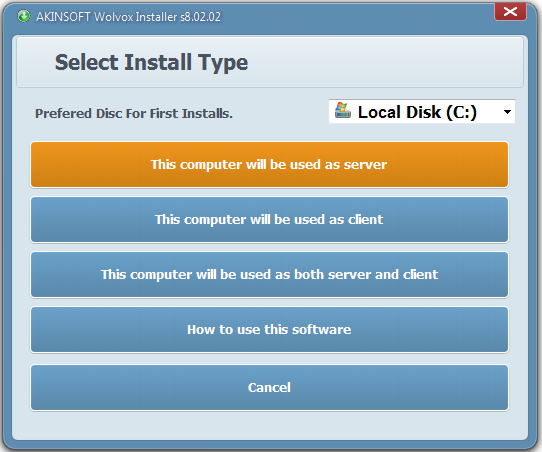 During the "Server" and "Server-Client" type installatons, installation of "Wolvox Control Panel" and other software to be installed will be made.
During the "Client" type installation, only the sofware to be run on client should be installed. Software to be run on client computer must be installed to the server computer before. Softwares will be installed and updated through "Wolvox Control Panel" on server computer. Because of this, during the "client" type installations, IP and Port number of "Wolvox Control Panel" at server computer must be declared. This port number can be seen at the "Wolvox Control Panel" window as "Updating Port".
During the "client" type installation, for the software needed to be updated, Installer will give warning as "You can upgrade this software on server". In this case software beimg used(For example: Wolvox ERP) must be updated at server computer. Software being used at server computer automatically update itsef when it is opened.
"Start" button located right below should be clicked to start installation or update operation for the software.
If any Wolvox Software is not installed on the system, "Install" box will be enabled in front of it. If Wolvox software is installed on the system but its version is not updated, "Update" box will be enabled in front of it and if "Change Info" link is clicked, changes on the updated version can be seen.
When "Download Only" box is checked at the bottom of the software window, by checking the "Download" boxes for the related software columns, only downloading will be allowed for the desired software.
When "Fast Install" box is checked at the buttom of the software window, software installation will run automaticall without asking user confirmation and installation will be made to the folder where previous installation has been made.