You can change your stock's sale price by putting a certain profit margin during the purchasing or you can see profit margin between your new purchase price and available sales price during the purchasing and also see how you can make a profit while selling the stock.
First you need to do coming Admin=>Custom Settings=>Invoice Settings area and from here you mark "Show the sales price compose" option.

You select your stock from purchase invoice and when pressing Save button, the question "Rebuild sales price?" will be appeared you and if your answer is yes, the sales price compose window will be come on you.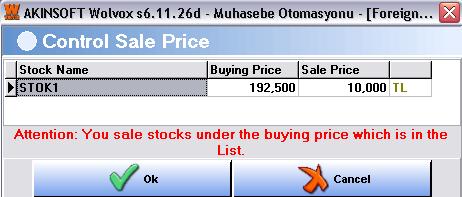 From here, you can see your stock's new purchase price and how percentage can be sold with a profit margin, if you want, you can write your own profit margin and thus you can provide your sales price can be changed in this area.